TO START DOWNLOAD, CL1CK THE 1MAGGE DOWN FIRST TO UNL0CK VIDE0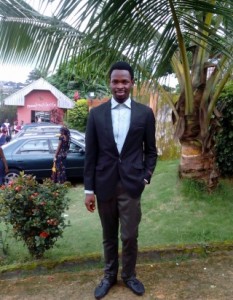 Our second annual "Advice to Graduates" Contest has come to an end and we have named our winner! Abazie Wiseman took home $250 for the following words of wisdom that he shared with the graduating class of 2015:
"Challenges are our best friends in disguise as they provide us paths to our goals. As you have overcome your academic challenges to become graduates, more challenges still lie ahead, but remember they're opportunities in disguise."
Abazie is originally from Nigeria and would like to pursue a post-graduate degree in sustainable energy at the University of Glasgow, UK. We were able to get a bit more information from Abazie including why he wants to become an international student. His responses (just like his advice) were quite impressive, take a look below!
International Student: "Why do you want to become an international student?"
Abazie Wiseman: "Becoming an international student will give me the ample opportunity to learn and interact with great minds from different cultures, nationalities and also, to study my area of interest which is not obtainable in my home country because no university is currently offering it as a course."
International Student: "What is the most difficult part about trying to become an international student?"
Abazie Wiseman: "For me, the most difficult part is securing the cost of schooling abroad."
International Student: "What degree would you like to pursue and what are your career goals?"
Abazie Wiseman: "I want to pursue a post-graduate degree in Sustainable Energy. In Nigeria where I reside in, fossil fuels has been the sole means of energy to the entire country and has not been able to sustain the country most especially in the area of Electricity generation; this has also, contributed extensively to environment degradation and climate change. The dream of affordable, cleaner, reliable, sustainable and modern energy for all Nigerians irrespective of class remains my inspiration and career goal."
International Student: "Thank you Abazie, is there anything else you would like to share?"
Abazie Wiseman: "Climate change is real. In the part of the world where I reside in, most people have not even heard of this 'phrase'. Nigeria has a lot of natural resources that can be used to power the energy needs of her growing population and industries but sadly, these natural resources are not properly utilized. Renewable energy remains a vital weapon to combat climate change and 'Energy poverty'. I want to be an ambassador of sustainable energy in Nigeria."
Can you relate to Abazie? Tell us what you think in a comment below!
To Add Me 0n BBM or Whatsapp F0r Free Vide0s, Cl!ck The Display above First Fully Funded International Excellence Scholarships at University of St Andrews in UK, 2018 The University of St Andrews is inviting applications for international excellence scholarships. Scholarships and funding. St Andrews is committed to attracting the very best students, regardless of financial circumstances.